Deluxe Suite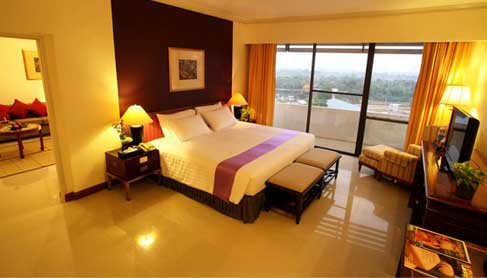 With a panoramic view of the surrounding mountains and tropical garden, the more expansive Deluxe Suites are perfect for honeymoons, luxurious getaway or business trips.

These Suites offer an elegant combination of two generously sized bedrooms with a tastefully decorated bathrooms and a charming living room with a guest powder room. Our Super Deluxe Suites have satellite TVs, a daily fruit baskets, daily newspapers, private safety boxes and a combination of shower and bath facilities.

This suite is romantically furnished with a king size bed, an ottoman and a vanity table. The splendid Spanish marble bathroom is fitted with a bathtub, a separate shower and features a sandstone bust of the Buddha set in a marble alcove. Our Deluxe Suite is flawlessly luxurious.
Executive Room Accommodation
Beautifully furnished rooms with LCD Televisions with Tata Sky Connections.
Welcome Amenity (Free Replenishment upon request)
Complimentary late checkout up to 1600 hrs without any additional charge (Subject to availability).
Complimentary Wi-Fi & Wired internet access (24 hrs) in all guest rooms and corridor
Tea & Coffee maker in each guest room without any extra charge with unlimited refill
Tastefully decorated spacious guest rooms (with A/C) providing five star luxury
Interconnecting rooms available on request
High quality bed linen
Doctor on call 24 hrs
Well trained staff with international work experience
24 X 7 Security and Transport & facility
Room Service
Room to Room & Local dialing from all guest rooms
Refrigerator and Electronic Locker in room
24 Hrs running hot & cold water
Power Backup
Laundry & Dry cleaning service
Major Credit Cards Accepted
Hairdresser/Beauty Parlor facility
Airport transfers on a chargeable Basis
Super Deluxe Room
LCD TV and Tata Sky Connections Refrigerator & Lockers in Every Room.
Late Checkout chargeable.
Wi-Fi & Wired internet access (24 hrs) in all guest rooms and corridors.
Complimentary In-room Tea/Coffee making facility with Limited refill.
Tastefully decorated spacious guest rooms (with A/C) providing five star luxury.
Interconnecting rooms available on request
High quality bed linen.
Doctor on call 24 hrs.
Well trained staff with international work experience.
24 X 7 Security and Transport & facility Room Service.
Room to Room & Local dialing from all guest rooms.
Calling Cards available for long-distance calls.
24 Hrs running Hot & cold water, Power Backup
Laundry & Dry cleaning service.
Major Credit Cards Accepted.
Hairdresser/Beauty Parlor facility Airport transfers on a chargeable Basis
Deluxe Room Accommodation
LCD TV and Tata Sky Connections in Every Room.
Late Checkout chargeable.
Limited Wi-Fi internet access (24 hrs) in all guest rooms and corridors.
Complimentary In-room Tea/Coffee making facility with Limited refill.
Tastefully decorated spacious guest rooms (with A/C) providing five star luxury.
High quality bed linen.
Doctor on call 24 hrs.
Well trained staff with international work experience.
24 X 7 Security and Transport & facility Room Service.
Room to Room & Local dialing from all guest rooms.
Calling Cards available for long-distance calls.
24 Hrs running Hot & cold water, Power Backup
Laundry & Dry cleaning service.
Major Credit Cards Accepted.
Hairdresser/Beauty Parlor facility Airport transfers on a chargeable Basis